Ken Hughes World's leading Consumer & Shopper Behaviouralist - CEO Glacier Consulting - Key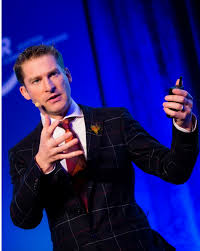 Ken Hughes é reconhecido como uma das maiores autoridades mundiais em comportamento do consumidor e do comprador. É consultor de algumas das maiores marcas do mundo. Combina a compreensão da psicologia do consumidor e cibernética com antropologia digital, economia comportamental e futurologia do retalho para explorar as necessidades do novo consumidor e prever que mudanças vão surgir no setor. No VI Congresso da Associação Portuguesa de Centros Comerciais, fará uma intervenção sobre Inteligência Artificial.
Ken Hughes is now acknowledged as being one of the world's leading authorities on consumer and shopper behaviour, blending his understanding of consumer & cyber psychology, digital anthropology, behavioural economics and retail futurology to explore the needs of the new consumer and predict the changes to come.
Ken advises some of the biggest brands in the world on customer experience, omnichannel strategy, shopper marketing, retail trends, the millennial and Gen Z shopper and the peer-to-peer economy. As an accomplished author, TED speaker, part-time university professor and actor, his performances are not only insightful and thought-provoking, but are infamous for their sheer energy, entertainment and passion, not to mention his generous Irish wit.
Every year, Ken shares his thought-disrupting insight with tens of thousands of delegates globally as one of the most popular keynote speakers booked on the international conference circuit relating to the future of consumerism.